Roll Up Your Sleeves And Create Positive Change
No Effort's Too Small
SOME welcomes both adult and youth volunteers who are willing to commit time in support of our mission. Opportunities include youth initiatives, holiday events, family and meal services, and the SOME year-long Volunteer Corps program for recent graduates. No level of commitment is too small and all are encouraged to take a more active role in our organization.
Volunteer Roles
Volunteers play an essential role in SOME's work. If you are interested in volunteering, sign up at SOME's Volunteer Hub where you will find a robust list of volunteer opportunities. If you have questions or would like to set up a group volunteer opportunity, contact our Volunteer services team at volunteer@some.org.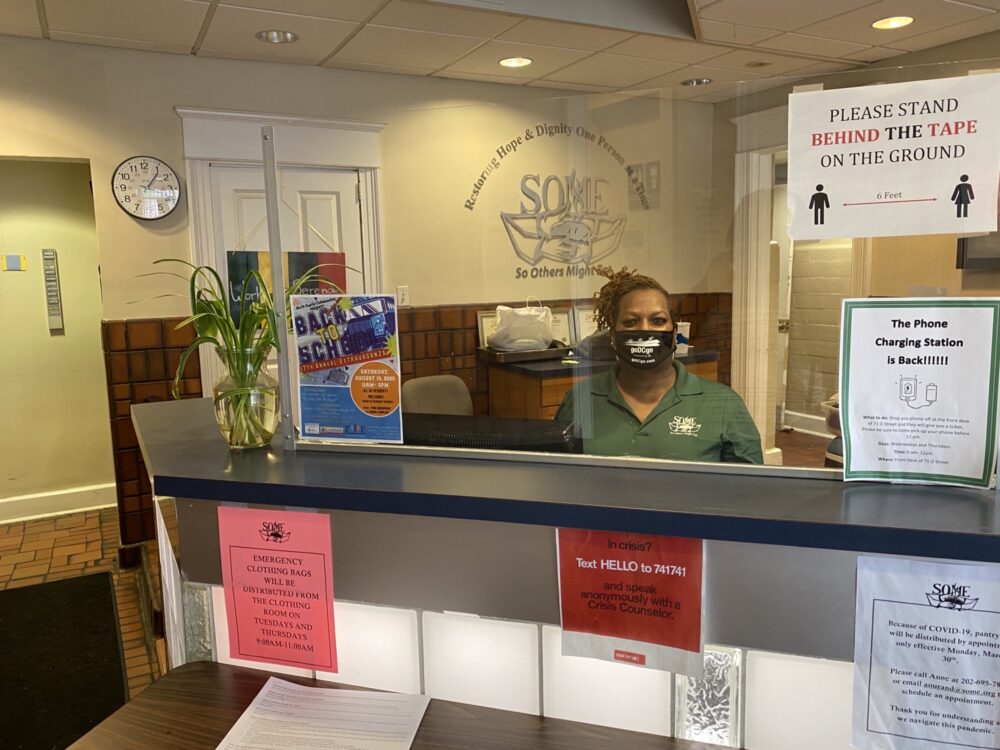 Addiction Recovery
Facilitate groups and individual sessions as a professional counselor or a peer-support counselor.
Advocacy
Coach client and non-client advocates, research policy, testify and meet with public officials or participate in our Social Justice Reflections program.
Center for Employment Training
Tutor students enrolled in SOME's adult workforce development program (academics and computers), review resumes, conduct mock interviews, and/or host students at your workplace for externships.
Development and Communications
Attend SOME special events/fundraisers, assist with mailings and other communications, and/or provide administrative support.
Emergency Services
Serve meals in the SOME dining room, provide or sponsor meals, assist cooks in the kitchen, prepare weekly groceries for distribution to other SOME programs, sort and organize material donations, and/or make presentations to guests between breakfast and lunch.
Mental Health
Assist with all aspects of our peer-support day program (ranging from serving meals to facilitating activities).
Professional Services
Provide clients finance, legal, IT, tax, and/or general administrative support.
Senior Services (day program and residential program)
Become an engagement ambassador, teach a class or workshop, facilitate a special one-time or regular event, make visits to homebound seniors, and/or deliver meals to homebound seniors (current and former clinical professionals in related fields highly desired).
Single Adult and Family Housing
Tutor adults or youth, teach/coach topics such as personal finance and mental health and wellness, facilitate a special one-time or regular event for residents, such as a meal or game night, work in our garden/facilities, and/or provide childcare.
"The least I can give to someone is working through problems with them."
Most Thursdays, you can find Daniel Collopy set up outside of 71 O St. NW in DC at a table with a pen and a notebook. Across from him sits one of the many SOME clients he works with to offer legal advice. Daniel explains the court and justice system to SOME's clients and gives an opinion on whether they have cases to take to court. 
Daniel was introduced to SOME through Catholic Charities. 
"I didn't work directly for SOME, but I worked for Catholic Charities leading that work, and part of their outreach program was going to the SOME day program for a couple of hours each day. In my time helping at SOME, I have helped over 100 people so far. It's incredibly hard for people with less resources to make an appointment with a lawyer, make a court appearance, and then make the scheduled court date. I'm lucky to be able to give short -term legal advice, but mainly I just talk to people and give them my time and resources."  
Daniel has had an incredible impact on SOME clients. Thank you, Daniel, for your outstanding service to our clients.
Frequently Asked Questions
Registering to Volunteer
Yes, youth aged 13 and older are permitted to volunteer.
When you create a volunteer account in Volunteer Hub, you'll be able to indicate your skills and interests by selecting them from a list of affiliations. If you already have an account, log in and click "Manage Affiliations" to find that page.
Group Reservations
Visit our Volunteer Hub group leader calendar to create an account for yourself, if you don't have one already. There's no need to create a separate account for your group. Next, log in and sign up for any event with space available. Before you're finished, you'll be prompted to choose your group size. If you can't choose a size large enough to accommodate everyone in your group, please search for a different day. 
Once you complete sign-up, within 48 hours, you'll receive both confirmation email and a custom group sign-up link with a deadline. Every individual in your group then must add themselves to your reservation using the link by the deadline. 
To serve a weekday meal, we welcome groups of up to 12 people. To serve a weekend meal, we request groups of up to 10 people. For most material donations shifts, groups of five to eight are welcome, with some exceptions. 
Occasionally we're able to accommodate groups larger than 15 to help serve in our dining room or assist with other, special projects that require many hands. 
Visit our Volunteer Hub general calendar to find a shift with enough space for your group (five to 10 people) and then email donations@some.org to request a group reservation.
Unless instructed otherwise by a SOME coordinator, all  group members need to add themselves to the event roster under your group's reservation via the custom link provided at the time of reservation.
Volunteering in SOME's Dining Room
While most meals in our main dining room already are sponsored and/or provided by our current Provide-a-Meal groups, there are a handful of meals that are still available to be sponsored/provided each month. Provide-a-Meal groups may donate the cost of the meal, purchase and donate the food for us to prepare, or donate, prepare, and serve the meal onsite. The cost of one meal ranges from $600 to $800 and should include about 350 to 500 servings.
Volunteers are welcome to provide or sponsor meals provided for other SOME programs, either one time or on a regular basis.
Baked goods, granola, snack bars, chips, fruit, meat-and-cheese sandwiches, and peanut butter-and-jelly sandwiches are all welcome additions to our daily meal. Please prepare approximately 300 servings of any of these "treats." We place no restrictions on allergens, but ask that you wear gloves while handling any food. Servings may be wrapped individually, assembled into snack bags, or collected into large batches prior to donation. Donations are welcome between 8:00 am and 3:00 pm daily  at 71 O St. NW, Washington, D.C. 20001. 
Youth under 13 years old may help make our dining room more festive by decorating our bulletin board (45 x 96") onsite or by supplying pre-made decorations. Email   volunteer@some.org to learn more. 
Children also may coordinate a non-perishable food drive to collect donations for our pantry or a clothing drive to collect donations for our Clothing Room. Please click here for information on needed items.
Youth between the ages of 13-16 years old must be accompanied by a chaperone who must also sign-up for the same volunteer shift.
When you create a volunteer account in Volunteer Hub, you'll be able to join the "Dining Room Short-Notice List" by selecting it from a list of affiliations. If you already have an account, you can log in and click "Manage Affiliations" to find that page and join the list. 
General Volunteer Questions
Please wear comfortable, durable, and non-revealing clothing, including close-toed shoes with no significant heel, and minimal jewelry. Read our Dress Code.
SOME serves breakfast and lunch every day, year-round, regardless of inclement weather or canceled school/work. As with any volunteer opportunity at SOME, volunteers may choose not to serve on days of inclement weather or if work/school is canceled.
Email or call the contact person listed in your confirmation email, who is also listed in the event on the Volunteer Hub calendar itself, as soon as you know you will miss the shift. 
If you provided prior notice, your absence will be "excused." If you did not provide prior notice, your absence will be considered a "no-call, no-show." In some cases,  such as emergencies, illnesses, etc., notice of a missed shift given after the shift begins will be acceptable notice for an "excused" absence. 
If you miss three or more shifts within a 30-day period, or you exhibit a pattern of excessive no-call, no shows, your account will be locked (you will not be able to log in) and you'll be removed from all future events for which you've registered.
Yes, but only in spaces where there are absolutely no guests or clients present, especially the dining room.
The SOME Dining Room and Material Donations Department is a 10-minute walk from the NoMa/Gallaudet/New York Avenue stop on the Metro Red Line and a 20-minute walk from the Mt. Vernon Square/7th Street/Convention Center stop on the Metro Green/Yellow Lines. 
The building also is within walking distance of stops on the following bus lines: 80, P6, 90, 92, X3, 96, D51, G2. 
There are 10 parking spaces available on a first-come, first-served basis to volunteers in the SOME parking lot, which is adjacent to the dining room. Street parking is free for two hours (unlimited for Zone 5 permit holders) in most of the neighborhood between 7:00 am and 8:30 pm, Monday through Friday, and not on holidays. Street cleaning on one side of the street occurs on Wednesday and Thursday, from 9:30 – 11:30 am, in March through October, excluding holidays. 
Expected arrival and departure times are posted on the Volunteer Hub calendar. Unless specifically noted in communication with one of our volunteer coordinators, please do not plan to arrive or depart at a different time. 
Volunteers are NOT required to sign a waiver to serve in the dining room or material donations. Volunteers in other programs or departments will be notified if they need to complete required paperwork, such as background/credential checks or waivers. 
Volunteers in the dining room and material donations will participate in an orientation session at the beginning of their first scheduled shift. There is no need to register for orientation separately, nor is it necessary to arrive earlier than listed start times. However, volunteers in other programs may need to participate in an orientation prior to their first volunteer opportunity. Please visit the Volunteer Hub calendar for more information. 
Yes! We have a team of ambassadors who will represent SOME and provide information about our various volunteer opportunities at your next event. Please email volunteer@some.org to request a speaker.
Volunteers with court-ordered community service hours may serve in the dining room or material donations department if they aren't serving due to infractions related to at-risk populations, violence, or drug or alcohol use/abuse. SOME will provide documentation of court-ordered service.
Any current SOME client — or person who's been a client within six months — who receives any service other than emergency services IS NOT eligible to volunteer in any department. If an individual is receiving emergency services or has received those services within 30 days, they may be able to volunteer in emergency services per approval by our director of volunteer services. 
Yes! Inclusion and employment readiness groups should reach out to our volunteer coordinator at volunteer@some.org to schedule regular service to help ensure a meaningful and reliable volunteer experience.
Volunteer Hub
Volunteer Hub is SOME's volunteer database and scheduling system. 
Yes. All SOME volunteers need to create an account in Volunteer Hub. There is no cost to register and you need to create an account only once.  
Visit our general calendar, read the welcome message, and then view availability for a given  event by clicking the event title. You may view groups of events (e.g., dining room) using the drop-down menu under the left corner of the welcome message. If you wish to register, click the sign-up button and either log in or create an account when prompted. Once you're logged in, you may return to the calendar and sign up for additional events without having to log in again. You'll know you have successfully registered for an opportunity when you receive a confirmation email.  
Log in to your Volunteer Hub account, click "My Schedule" (in the upper right corner), click the event, and then click the link to cancel. You may also click the cancellation link provided in the confirmation email sent immediately after you signed up for the opportunity. 
Log in to your Volunteer Hub account and click "My Schedule" (upper right corner). 
First, try to reset the password by clicking "Forgot password?" If that doesn't work, email volunteer@some.org  for assistance.
If an event is full and has a waitlist, you'll see "Join Waitlist" instead of a sign-up button when you view the event in the Volunteer Hub calendar. If you don't see a waitlist option, there is no waitlist for that particular opportunity. Please consider signing up for a different event.