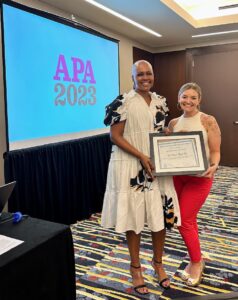 On Friday, August 4th, the Committee on Socioeconomic Status (CSES) of the American Psychological Association (APA) presented the Organizational Leadership Award to SOME, recognizing the organization's exemplary leadership and commitment to addressing socioeconomic issues. 
SOME's dedication to these principles made it a fitting recipient of the Organizational Leadership Award. Berinna Doggett, EVP of Healthcare and Emergency Services, and Stephanie Brown, EVP of Strategy and Performance, from SOME accepted the honor on behalf of Ralph Boyd, President and CEO of SOME. 
The mission of CSES aligns closely with the major purpose of the APA: "to advance psychology as a science and a profession and as a means of promoting health, education, and human welfare." To that end, the committee focuses on ensuring that issues of socioeconomic status (SES) receive full attention. Their work includes: 
(a) Collecting information and documentation concerning SES. 
(b) Promoting scientific understanding of the roles of poverty and SES in health, education, and human welfare. 
(c) Developing approaches to the application of psychology that consider the effects of SES on psychological development and well-being. 
(d) Advocating for social policies that alleviate or reduce disparities between SES groups. 
The recognition from the CSES is not only a testament to SOME's efforts but also an inspiration for continued dedication to the mission of helping others.